The Department of Public Worms has moved! Visit their new website by clicking HERE
AS Recycling is very excited to introduce indoor composting to the UCSB campus! With the help of a TGIF grant, we are able to provide attractive yellow bins with hinged lids to departments interested in reducing their food and other compostable waste. The bins come with descriptive signage and, when paired with your already well used blue recycling bins, are an excellent expression of Gaucho colors!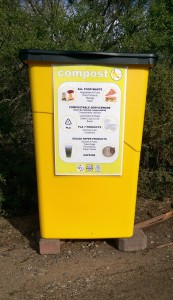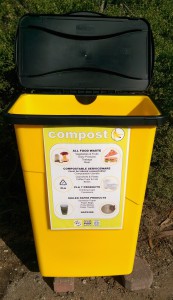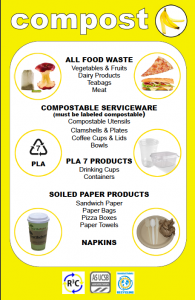 While indoor composting has been common at other UC's for several years, we are just starting to roll it out here. Unlike other campuses, we have elected to take the extra step to include a hinged black lid on our bins to reduce the chance for odors and flies that can be drawn to compost. This is just extra protection, however, because we also line the bins with bags and check and empty them 3 times per week, and are working closely with UCSB's Integrated Pest Manager, Matt O'Carroll. Of course, we are always available to assist with any issues that may arise. When you consider that most office waste bins are only emptied once per week, you are definitely much better off using one of our compost bins for your food scraps than your desk-side trash.
What can go in the bin:
ALL food scraps, including meat, dairy, and oils
Compostable products, including all coffee cups and lids, to-go containers, utensils and cups purchased from most campus eateries and coffee carts. Many plastic-looking compostable items are marked with a recycling symbol with the number 7, and the abbreviation PLA.
Napkins, wet or soiled paper, etc.
What can't go in the bin:
Plastic bags or containers– if you bring your compostables to the bin in a bag, please take the bag back with you or recycle it
Metal, plastic, glass, styrofoam
Compost Bin Locations
Building 555 (upstairs central lobby)
Buchanan (outside near coffee stand)
Courtyard Cafe (outside near main entrance)
College of Creative Studies (inside conference room)
Marine Sciences (inside front entrance at the end of the hallway)
Bren Hall courtyard (covered area near 1414), floor 3L
Noble Hall (second floor student lounge)
Life Sciences (near center elevators on each floor)
Library (outside old library front entrance in lowered area, outside near Summit Cafe, outside near new library main entrance, outside near new library back entrance)
Ellison (1st and 6th floor kitchens and outside courtyard)
Arbor (outside between tables & walkway)
Coral Tree Cafe (outside on patio area)
Intercollegiate Athletics (staff kitchen and central lobby)
All Associated Students offices (upstairs MCC, Annex, Bike Shop, Pardall Center/IVTU, KCSB, Recycling)
UCen (near the Lagoon)
CCS (in the student lounge)
SRB (in the Children's Center)
Lot 22