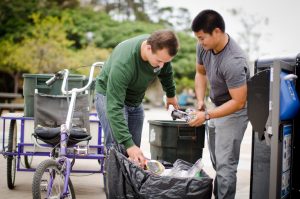 Route Riders collect recycling, electronic waste, and compost from specific campus locations to keep the campus waste management program running smoothly in order to keep UCSB as one of the top environmental performers in the country. Route Riders also help with other aspects of the AS Recycling program to educate the campus community and to reduce waste at UCSB. Route Riders are given the unique opportunity to experience and directly influence the process of waste management on campus.
Duties
Travel by specialized tricycle to specific outdoor and indoor campus locations to service recycling, compost, and landfill bins
Keep indoor and outdoor bins clean, free of debris, and in appropriate working order
With the help of a partner, collect electronic waste from bins in buildings across campus
Track collection weights and record data on printed spreadsheets
Assist with other aspects of the AS Recycling program including:

Conducting at least one event waste service and one outreach activity, such as tabling at events and workshops, per quarter. These events may take place on the weekends.
Contributing to special projects and tasks assigned by the Program Supervisor and Routes Coordinators

Drive electric vehicles on routes and to events
Keep in close communication with Program and Student Coordinators to maintain schedules and ensure that all routes are completed on time
Requirements
Must have an interest in recycling, compost, electronic waste, and environmental issues
Must be able to ride a bike moderate distances while pulling weight
Must be extremely reliable and able to work independently
Must be detail-oriented and able to maintain accurate recordkeeping
Must be able to work in a team and communicate with multiple people
Must be willing to get dirty and work in a variety of weather conditions
Must be able and willing to work at least 2 weekend shifts per quarter
Must be able to lift 50 pounds
Must possess a valid driver's license
More Information
Hours Per Week: ~10
Location: Facilities/All Campus
Wage: $12.25/hr
To Apply
Click HERE or search "Associated Students Recycling Route Rider" on Handshake. You must attach a resume and cover letter in order to be considered. Please label your cover letter and resume with your first and last name (ex. FirstnameLastnameResume).
For questions, contact Jessie Schmitt at jessicas@as.ucsb.edu