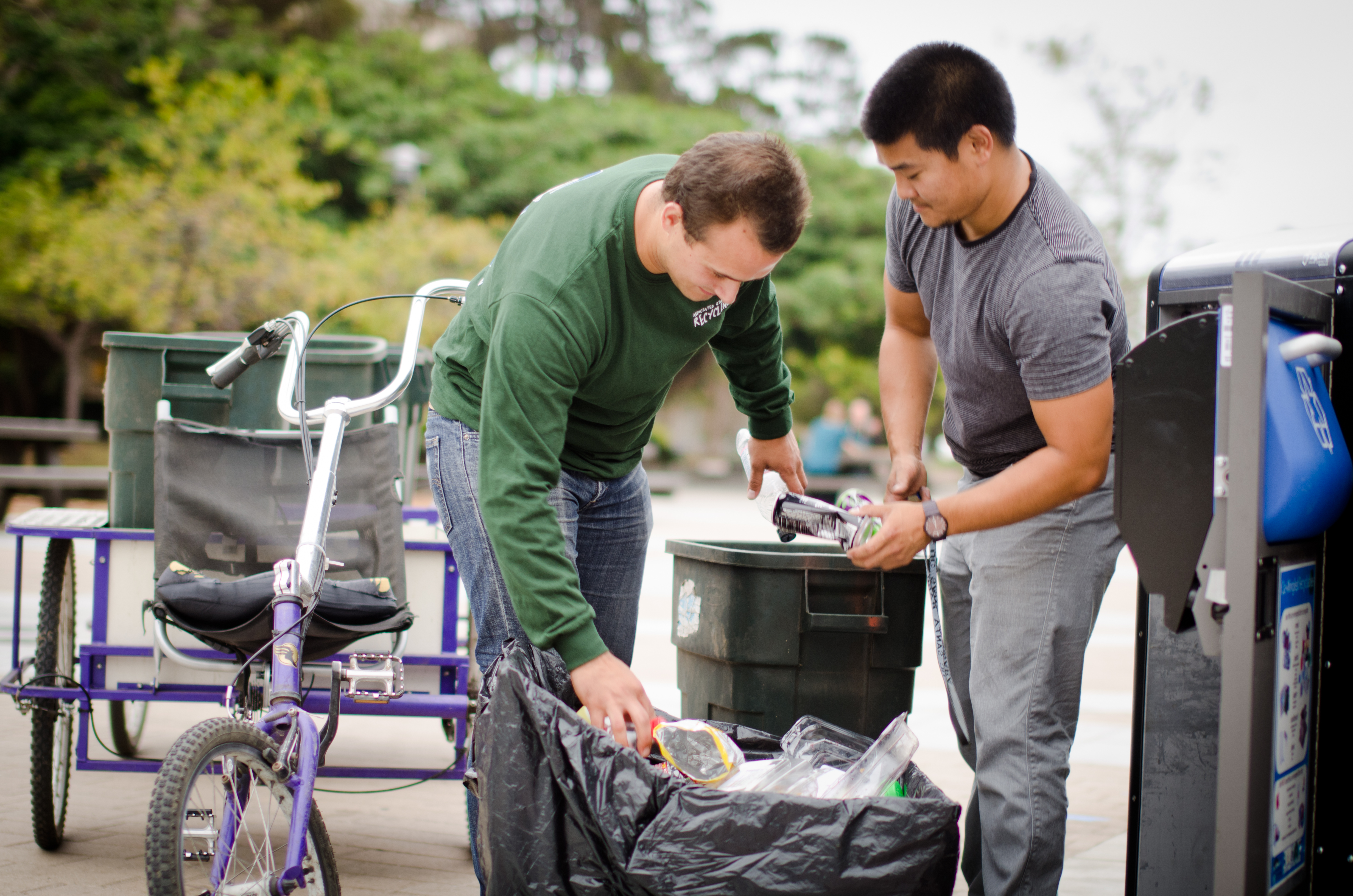 Recyclable material:
The following materials can be placed in blue recycling bins.
All metals
Plastics #1 and #2
All glass other than Pyrex, lab glass, and mirrors
Clean, unwaxed paper, paperboard (e.g. cereal boxes), and corrugated cardboard
Untreated wood
NOTE: Items made up of multiple recyclable materials are not recyclable. For example, a sheet of laminated paper is made up of paper and plastic but it is not recyclable.
Non-recyclable material:
The following materials are often mistakenly categorized as recyclable. Please do not put them in the blue recycling bins.
Plastic bags/ film plastic
Styrofoam
Plastics #3 through #7
Recyclable e-waste:
The following materials can be place in e-waste recycling bins.
Electronics
Batteries
Fluorescent lights
Recycling is a great way to reduce not only the amount of waste being sent to landfills every day, but also to reduce the need to harvest new materials from environmentally destructive processes like mining and timber collection. UC Santa Barbara's now robust recycling program actually began with AS Recycling and has since grown to include ASR, Facilities, Central Stores, Environmental Health and Safety, Housing and Residential Services and other campus departments all working alongside our campus waste hauler Marborg.
We are very lucky in Santa Barbara County that so many items can be recycled. Below is a brief list of recyclable materials as well as non-recyclable materials that often get put into recycling bins. Of course, being able to recycle a lot of different products doesn't help if the recyclables don't make it into the proper bin so, UCSB has developed an impressive recycling infrastructure to make sure everything gets to the right place. Visit our campus resources page to learn more about UCSB's recycling infrastructure!