Home Recycling
Marborg Industries handles waste collection for Santa Barbara County, including all residential and community recycling collection and processing. Because of Marborg's efforts and its collaboration with the County, many more items can be recycled in the Santa Barbara area compared to other locations. You can find a detailed list of what can be recycled in your home recycling bin here, or just check the summary table below.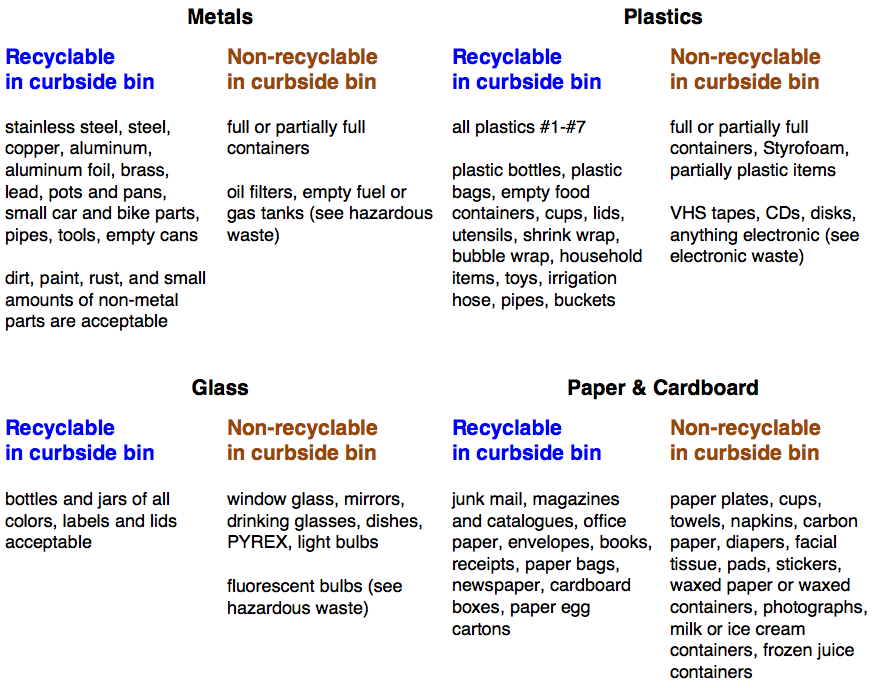 You can also recycle wood and carpet in your home recycling bin, provided that you can still close the lid! Many of the items listed in the "Non-recyclable in curbside bin" column can still be recycled through specialized programs. See our drop-off section below for information on hard-to-recycle items, or where you can go if you want to get a little cash back for your recycled bottles and cans.
Drop-off Recycling
Not everything can always be recycled at home. Maybe you have more to recycle than will fit in the bin because you just moved, or maybe you have a hard-to-dispose of item. We are always here to help! If you can't find what you're looking for on our website, contact us at ucsbrecyling@gmail.com or visit www.lessismore.org for more information on our local area. For information about recycling in other cities, visit 1800recycling.com/ .
Getting cash back for glass, metal, and plastic beverage containers
Marborg Industries Recycling (2 locations): 20 David Love Place, 725 Cacique Street

Replanet (3 locations): 939 Embarcadero del Mar, 7127 Hollister Avenue, #27, 5801 Calle Real
Santa Barbara Iron and Metal Recyclers: 709 East Gutierrez Street
Overflow of standard recyclables (cardboard, metals, large plastic items)
Marborg Industries Recycling (2 locations): 20 David Love Place, 725 Cacique Street
South Coast Transfer & Recycling Center: 4430 Calle Real
Recycling large items: mattresses, furniture, large appliances
santabarbara.craigslist.org for items that still work and can still be used
Goodwill Industries: 302 W Carrillo St for furniture (no mattresses or large appliances) that can still be used
South Coast Transfer & Recycling Center: 4430 Calle Real
Check for e-waste or large pickup events on www.lessismore.org
Recycling construction materials: concrete, roofing, dirt, flooring, metals, etc
Marborg Industries: 119 North Quarantina Street

South Coast Transfer & Recycling Center: 4430 Calle Real
Electronic equipment, batteries, cables, discs, paints, oil, fluorescent bulbs, etc: