AS Recycling runs a free electronic waste collection program for members of the UCSB campus. For off-campus e-waste disposal, please see our community resources page. Per UC policy, all e-waste from UCSB is sent to an e-Steward certified facility in Fresno, California. The rigorous e-Steward program requires that all certified facilities meet the toughest environmental and ethical standards in the world and that absolutely no e-waste is ever sent to developing countries for disposal. We have over 40 drop-off locations all over campus, so in addition to being the most ethical and environmental choice, it's also the easiest!
What is Accepted:
All computer parts and peripherals (Note: If you are a campus IT specialist, are discarding a computer and can verify that the drive has been COMPLETELY wiped, you may tape a note to the item stating that it has been wiped and can be redistributed with the hard drive intact. Otherwise, the hard drive will be destroyed and the recycle value of the computer will be reduced).
Handheld devices
Small appliances
All types of batteries
Ink & toner cartridges
Discs, tapes, cassettes, etc.
CFL light bulbs (ONLY in light bulb bins)
What is NOT Accepted:
Large items (larger than 2'x2'x2′ or heavier than 50lbs). Call Central Stores at (805) 893-2732 for a pickup.
Smoke detectors (some have radioactive parts)
Fridges and air conditioners (or anything that has coolant, this is hazardous)
Furniture
Inventorial Items:
AS Recycling cannot collect or dispose of University inventorial items until they have been properly removed from inventory by the department. In general, items that are over $5000 in original cost are inventorial items. Click here for more information.
Campus Drop-Off Locations
You can drop off your e-waste at any of AS Recycling's e-waste collection bins. If multiple bins are present, please sort your waste according to the signage. If there is no battery or ink cartridge bin, these items can be placed in the general bin.Do not place CFL lightbulbs anywhere other than in a lightbulb bin; a broken bulb leaks mercury and is dangerous for building occupants and our student workers.
If your item will not fit in the bin, you can either leave it on the floor nearby (do not impede foot traffic) or contact us for a special pickup. Please keep in mind that because we are staffed by student workers and have limited equipment and a small vehicle, we cannot handle very large or heavy items. If your items cannot be comfortably handled by two people without special tools, please contact Central Stores at at (805) 893-2732 for assistance.
Map of Off-Campus E-waste Drop-Off Locations:
Map of On-Campus E-waste Drop-Off Locations: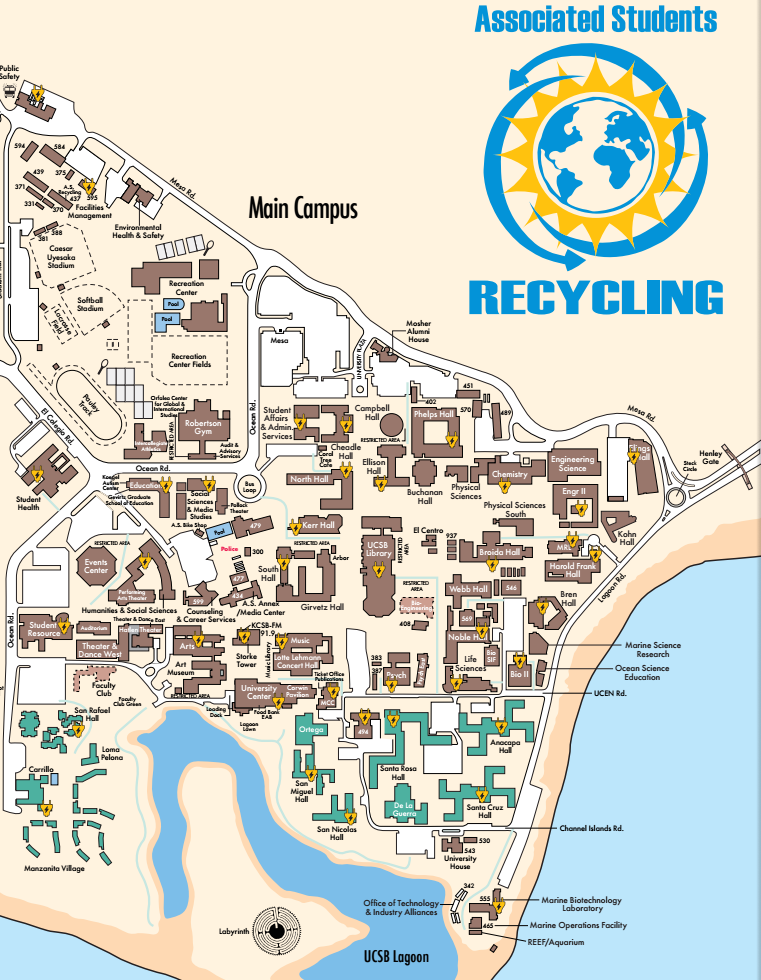 Anacapa
 East lounge next to recycling cluster
Art Building
 2nd floor above outside stairs
Bio II
 1st floor near far elevators (all bin types)
Bren
3rd floor lab wing, student kitchen near patio door (general, battery, bulb bins)
Broida
Outside, left of south side entrance of main building (all bin types)
CCS
 End of entrance hallway on the right side (all bin types)
Cheadle Hall
Between elevator and stairs in front lobby, left side (general, bulb bin)
Chemistry
Left of main entrance before entering (all bin types)
EDB
 3rd floor, next to elevators (all bin types)
Elings
 Right of main entrance, in lobby (general, battery bins)
Ellison
 Left of main entrance lobby next to recycling cluster
Eng II
 Entrance of Richard A. Auhll Student Center (all bin types)
Facilities
(1) Building 437, IT room, (2) Building 437, outside Matt O'Carroll's office (general, batteries)
Harold Frank Hall
(1) Right side of south entrance lobby, (2) back entrance by loading dock (entrance lobby location has general, battery, ink cartridge bins, back tub is bulk items only)
HSSB
In 1000 Wing, near coffee stand (all bin types)
Pardall Center
 Right side of main room (general)
KCSB
 Outside KCSB courtyard under Storke Tower stairwell (general, ink cartridge, battery)
Kerr
 Right of West entrance, across from restroom (all bin types)
Library
 Left of main lobby near restrooms and elevators (all bin types)
Life Sciences
 3rd floor inside advising office (general bin)
Manzanita
 Right of main entrance lobby of De Anza Resource Center
Marine Biotechnology Lab
 Second floor by the whale pot
Materials Research Lab
 Left of main entrance next to water fountains (general, battery, bulb bins)
MCC / AS Building
 (1) 2nd floor, top of stairs to the right, (2) 1st floor in AS Publications (general, battery, bulb bins on second floor, general/toners in publications)
Music
 2nd floor Music Library, top of stairs (general, battery bins)
Noble Hall
 1st floor, down hallway from East entrance, next to elevator (general, battery, bulb bins)
North Hall
 North entrance hallway next to stairs (general, battery, bulb bins)
Phelps
 1st floor, right of lobby, near elevators and restrooms (all bin types)
Psychology
 Left of Psych West entrance, near elevator and hydration station (general, battery, bulb bins)
San Miguel
 Behind front desk
San Nicholas
 Next to recycling cluster to the left of the information desk
San Rafael
 Right of main entrance lobby
Santa Catalina
 Left of front desk in South Tower
Santa Cruz
 Next to recycling cluster in gaming/recreation room
Santa Rosa
Front lobby in large recycling bin
Santa Ynez
 In the laundry room to the right of the entrance
South Hall
 1st floor, near northwest end of main building, outside of The Math Lab (all bin types)
SRB
 Left of main entrance lobby (general, battery, bulb bins)
SSMS
 1st floor, NE entrance next to elevator shaft and near Pollock Theater (all bin types)
Storke Housing
 Next to back entrance of the laundry room
Student Health
 Left of main entrance, down Blue Hallway
UCEN
 2nd floor next to Information Desk (general, battery)
West Campus Apt
 In rear laundry room
West Gate Apt

SAASB

 To the left of the front lobby

Business & Finance Services, next to HR
Want E-waste bins and pick up service for your building?
Please contact us!